About Sue's Stepper-ettes
Sue's Stepper-ettes Parade and Dance Team was formed in 1973. The group has grown to be the largest baton twirling and dance organization in the Midwest. Youth between the ages of 4 and college participate.
The Stepper-ettes have performed at over 600 area events including parades, community celebrations, halftime shows, Special Olympics, assisted living facilities, the Henry Doorly Zoo and the Governor's Mansion.
Sue's Stepper-ettes are also world travelers. In six separate overseas trips team members have performed and competed in Russia, Italy, England, France, Spain, Holland, Belgium, and Switzerland.
In 2009 and 2012 the Stepper-ettes Senior Team won the World Championships held in Belgium and then in Switzerland! In 2015 the Senior Pom Team won the pom division at the World Championships held in Lignano Sabbiadoro, Italy!
Every July, the Stepper-ette national team competes at Notre Dame University. The team has won titles in Junior, Senior, and College Pom Pon, Halftime Show, Dance Twirl, and Twirling Corp divisions. Many individuals have also won national titles.
In November of 2010, the Stepper-ettes were honored to have been chosen to march in the Macy's Thanksgiving Day Parade and perform on national television in front of the Macy's Store!
In the summer of 2017 the Stepper-ettes Batman Vs Joker routine went "viral" on Facebook with over 100,000 views.
In 2018, 62 Stepper-ettes traveled to Dublin, Ireland to march in the St. Patrick's Day Parade! It was a cold day but such an incredible experience!
Stepper-ette Studios is the home of Miss Nebraska 2001-Tina Foehlinger, Miss Nebraska 2016-Aleah Peters, multiple collegiate marching band feature twirlers, and many high school feature twirlers, cheerleaders, and dance team members.
Director - Sue Foehlinger
Sue Foehlinger began baton and dance lessons at the age of seven. In 1973 at the age of 14, Sue formed her first group of students which later became known as the Stepper-ettes. As an adult, Sue completed seven additional years of dance training. Sue is an accredited baton twirling judge and has judged many state, regional, and national competitions.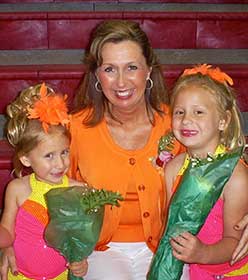 Co-Director - Tami Koel
Tami Foehinger-Koel began twirling at the age of 3. She also has training in dance and gymnastics. She was a member of the Ralston High School Dance Team, a feature twirler for the Cornhusker Marching Band and a contestant in the Miss Nebraska Pageant system. Tami was a member of Team USA at the baton twirling world championships held in Italy in 1996, England in 2000, Holland in 2006 and Belgium in 2009. She served as coach of the Stepper-ette's senior team who won the world championships in Switzerland in 2012.