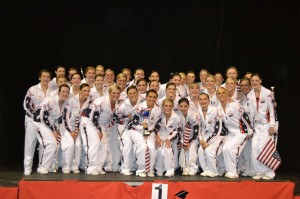 On Sunday, April 8th in Neuchatal, Switzerland, the Stepper-ettes Senior Team won the gold at the 2012 World Baton Twirling Championships! The silver was awarded to the Netherlands and bronze to the team from France.
The twirling corps competition was the very last to take place during the week-long world championships and the arena was full to capacity with spectators and twirlers from all over the world. As the Stepper-ettes entered on to the competition floor, chants of "USA, USA, USA" rang through the air. During their 7 minute "Alice" routine the energy from the girls was absolutely captivating and the crowed really responded to the performance. As the last note of music played the crowed erupted into loud and enthusiastic cheers!
The wait for results was only an hour or so and while the team was very happy with their performance, they had heard that the teams from France and the Netherlands also had strong showings. The closing ceremonies began and all of the awards were announced leaving our event for very last. Finally the announcer's booming voice said "Third place...France, second place...Holland, first place...USA!" The girls sprinted up to the podium and their faces were both full of smiles and tears of joy!
Thank you so much for all of the support our fellow Stepper-ettes and their families have shown us the past few months. We are so proud to bring home the gold once again!