It was an exciting week for Sue's Stepper-ettes at the baton twirling and pom pon National Championships held July 21-26 at Notre Dame University in South Bend, Indiana. Although this national competition is an annual event, the opportunity to compete for a spot on Team USA happens just once every three years.
The Stepper-ettes began their quest to earn a spot on the coveted USA team on Tuesday, July 22nd by competing in the preliminary round of the pom pon competition. Over 25 teams were in contention. The top 5 teams advanced to the finals held on Saturday, July 26th. Only one would be named to team USA. After exciting and well executed routines from all of the top 5 finalists, it came down to two…the Modernettes from Finleyville, Pennsylvania and Omaha's Sue's Stepper-ettes.
"Seconds seemed like hours while we waited to hear who would be named the winner," said team member Rachel Foehlinger. "Finally the announcements were made and we were named the champions! We will be going to Italy in 2015!"
The Stepper-ettes Senior Pom team will travel to Europe April of 2015 for the World Championships held in Lignano Sabbiadoro, Italy. Way to go ladies!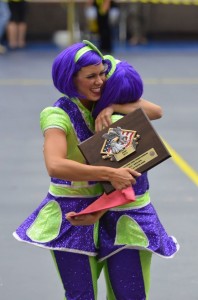 read more